Property Wanted to Owners
About Share Houses
If you would like to take advantage of your precious properties, we will absolutely assist in helping you and please feel free to consult with us. We will take care of management, renovation and other things related to your concerns.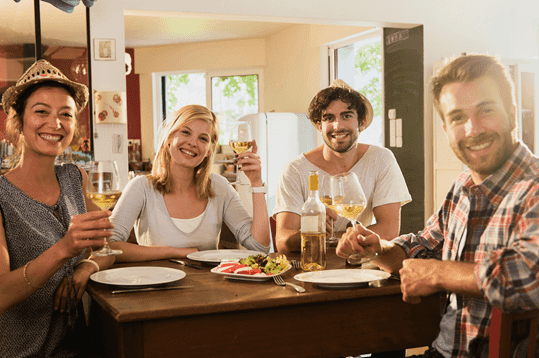 01

What is J&F House (Share Houses)?
J&F House is not only for residential space but also combines people from all over the world. Recently, to share part of a room (Share House / Guest House) is one of the most stylish ways of living and lots of mass-medias are talking up this brand-new living style. For us, we have the know-how and enough experience to manage Share Houses.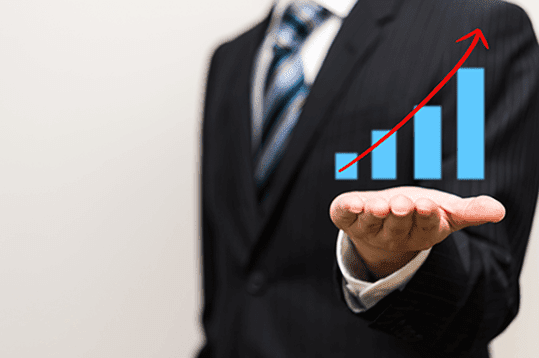 02

Advantages of Share Houses
Aged property is OK!
More than 90% occupancy rate!
In case of aged properties, it seems to be difficult to get rental income because there is not enough equipment, such as bathrooms and toilets in each room and so on. But we can sublease your property and pay rent every month so that the owner gets a stable rental income(possible to propose property management as well). *The properties we have managed so far have about a 90% occupancy rate on average throughout a year. Therefore, we have never cancelled a contract. Although our tenants include foreigners, the owner does not need to be worried because, we manage and take care of all the tenants.
03

Conditions
Building Age
It is possible for us to manage property aged over over 40 years as J&F House. But if the property was built before 1st of June, 1981, we will recommend that the property should get anti-earthquake renovations the building was built on the basis of old seismic codes.
Structure
There is no specific condition. But in case of a wooden property, the property needs to meet the fire protection measures under both the fire defence law and building standard law.
Property scale
When we manage property as J&F House, we need at least 20 rooms (though it depends on the area and if the area is great, we will take a property with 5 rooms). Also, we categorise properties on the basis of the number of rooms and if the property is large, we will station a building manager at the property. *Large scaled property: more than 40 rooms and the house manager stationed Small scaled property: less than 40 rooms and the house manager semi-stationed.
Area/location
【About areas】
We manage Share Houses in Kanto and Kansai at present. Therefore, property renovation is limited in Kanto and Kansai. But if there is a largescaled property in the Nagoya area, it wil be possible to consider it.
【About locations】
Ideally the property is close to main train line and station. Also, within 15 minutes from the station to property and if there is a convenience store and supermarket around the property, it will be great.
Ideal property
J&F House generally categorises as Share Houses and are classified as dorms. Therefore, we prefer a property built as a dorm or company dorm. Also, a standard apartment classified as apartment house will be okay if it is possible to renovate a shared lounge. In addition, a house with 5 rooms will also be considered.
About renovation
under building use
It's possible for office buildings, houses, hotels and inns to be renovated into Share Houses (this can vary though). However, Share Houses are generally categorised as a dorm. Therefore, the owner needs to renovate the property to meet specific measurements. In this case, it might be a large scaled-renovation(note that it is hard to do it in Tokyo and Yokohama city because of the measurement of Madosaki Kuchi which as a whole, secures an open space between the entryway and street). On the other hand, in case of hotels and inns, if they are properly renovated, it will be possible to manage hotel or inn style Share Houses. In this case, there needs to be regular reception staff and more than 50 rooms to hire their staff.
04

Types of contract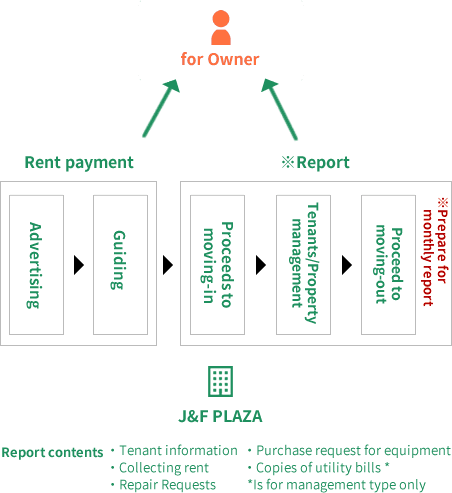 1.Subleasing type
We lease a property from the owner and sublease to tenants. Also, we pay fixed rent to the owner every month. Therefore, the owner gets stable rental income.
2.Management type
Rental income is changed depending on occupancy rate. Owner`s income will be paid after deducting management fee and other expenses from collected rent.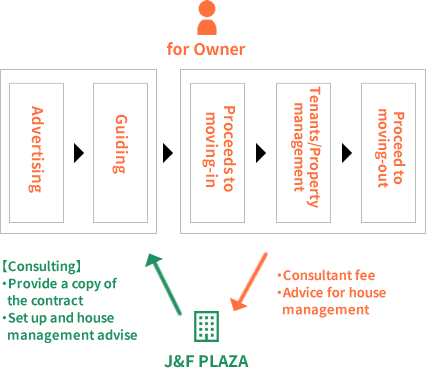 3.Self-management (*some conditions apply)
Self-management type and we assist the owner in their management as a consultant.
Advice for property renovation, equipment and management.
1.Provide a copy of the contract(*if there are some changes in the contract, we will keep providing the revised contract for 1 year)
2.Post your property on J&F Plaza website
3.Where and How to advertise and introduce cleaning company and other things(laundry company, website company and so on...).
4.Advise of troubles and any questions about house management through emailing or calling for 1 year.
※It is just advice. Therefore, if you ask us to translate or revise documents, you will have to pay the fees.
4.About cost for property management
| | Subleasing type | Management type | Self-management |
| --- | --- | --- | --- |
| Cost for renovation | | | |
| Cost for repair (building・equipment) | | | |
| Cost for legal inspection | | | |
| Cost for the building manager | | | |
| Cost for daily necessities | | | |
| Water/gas/electricity | | | |
| Cost for internet | | | |
| Cost for daily and regular cleaning | | | |
| Cost for advertise | | ※It is different from a type of advertisement. | |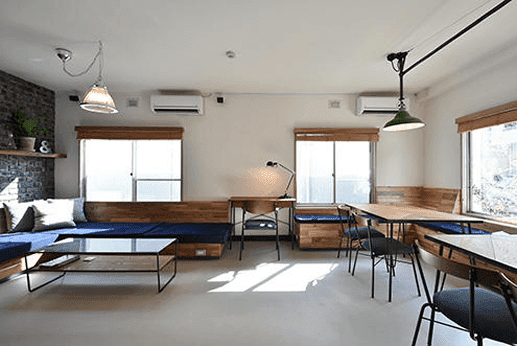 05

Share House renovation
Our aim is to create houses is to make everybody happy. It is "J&F House".
We not only provide "renovation" but also "new living styles at Share Houses". These make your property more attractive and valuable. They can also help the Share House contribute to our society, such as assisting foreign residents and accelerate international exchanges among young generations. Therefore, we are sure that you can gain more profit and more satisfaction as well.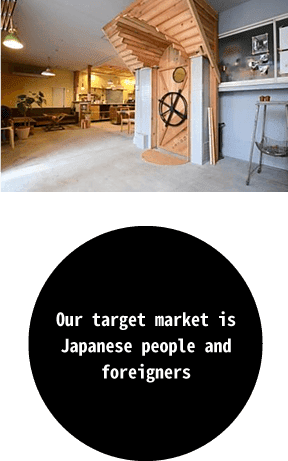 The Tokyo Olympic games have pushed Japan to quickly globalise now much more than before. There will be more people coming from all over the world because Japanese government is proceeding with "a plan for 300,000 exchange students". The younger generation will be able to feel how it is to learn foreign languages and can have the chance to acquire an international standard and way of thinking. Under this situation, we aim to make sure Share Houses meet their needs and give you a stable profit. In addition, this will contribute to Japan's globalisation and society's contribution.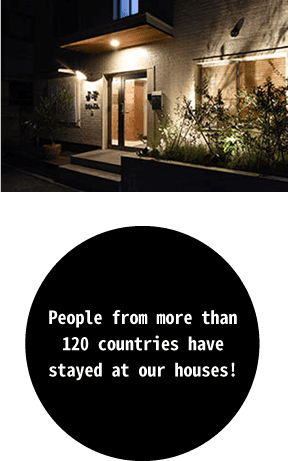 We receive online inquiries from all over the world. Therefore, people from more than 100 countries have stayed at our houses so far and have made J&F House very international. Also, our houses are fully furnished and it makes it easier for people coming from other countries to start to their new life in Japan.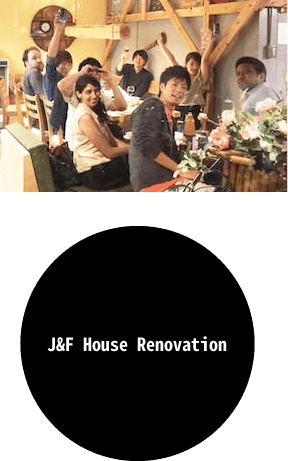 J&F International Community House was first established in 1999. Which means, our assistance in your property's renovation is based on years of accumulated experience and know-how.
Examples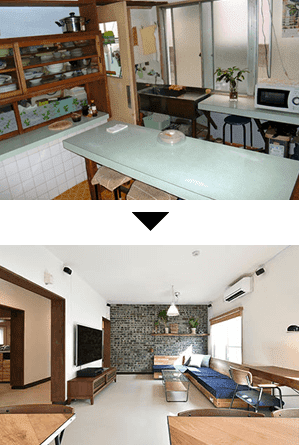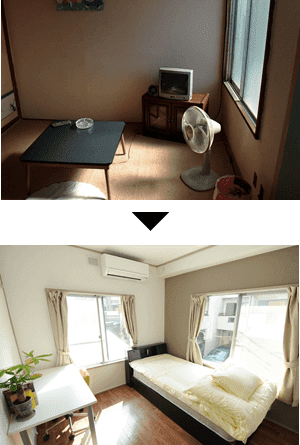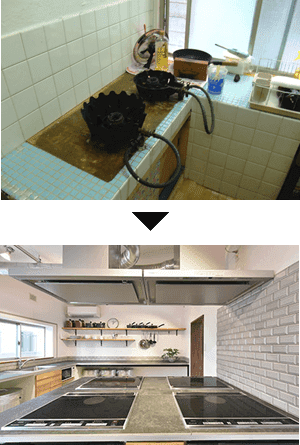 STEP1

Free consultation

Please give us your property's information and any inquiries you have. We will explain the details about J&F House management.

STEP2

Previewing Site

Previewing and checking the building itself and other equipment

STEP3

Decide operation type and meeting & quotation about the property.

Decide your operation way among 3 types and final meeting about renovation.

STEP4

Start to renovate and place equipment and furniture.

Renovation and preparation for others to set up your house as a J&F House

STEP5

Completion and settlement of contract

STEP6

J&F House open!
06

FAQ
About J&F House management
After renovation, there are 2 ways of operation, one is self-management and another is J&F property management.
FAQ about J&F management
What types of contracts do you have?

We suggest 2 management types below.
・Subleasing Type: We lease a property from owners and sublease to tenants. It gives you stable rental income. On the other hand, compared with management type, rental income might be lower.
・Management type: Rental income is changed on the basis of occupancy and payment rate. Compared with the subleasing type, it is less stable. But if the occupancy rate is higher or full, rental income will be higher than the subleasing contract.
How much do we need to manage and what is the payment ratio?
General questions about self-management
Support system

We will support and give advice to you for 1 year for those who renovate properties. Here are our types of support below.
・Advise how to renovate
・Provide a copy of the contract
・How to set up and manage shared house business and advise other things related to house management (dealing with complaints from tenants and how to solve it etc…)
・Advise for recruiting the house manager and we train house managers (only if a house manager is needed)
I can not speak English. Is this okay?

J&F House is a place for international exchange. However, if you can not speak English or deal with anything in English, you do not have to accept foreigners and accommodate only Japanese.
Would you please tell me what kind of troubles can happen at the house?

There are many people who have different backgrounds and opinions. Therefore, we can not avoid some troubles, such as incompatibility and men/women troubles. Also, If tenants do not follow the garbage separation guideline, the relationship with neighbours may become worse. Therefore, we place a well-trained house manager at the house to prevent those troubles. *If you need a house manager.
Would you please tell me what kinds of costs are needed?

・ Water/gas/electricity
・ Internet provider fee
・ Cost for equipment and legal inspection(water tank/transformer etc…)
・ Daily and regular cleaning
・ Repairing and purchasing daily items
・ Daily commodities(toilet paper or lights)
・ Neighbourhood association expense
About residents
What is the ratio of foreigners?

The ratio of Japanese people and foreigners is about 5:5 But it changes depending on season.
About foreign residents, what kind of work or things will they be doing?

Foreign residents usually do one of the things below.
1.English teacher
2. Tourist
3. IT Worker
4. Student
5. Service industry
6. Publishing business
7. Others
The ratio of men and women and age

The ratio of men and women is 5:5 and average age is from 25 to 35.
About unpaid ratio

The unpaid ratio is about 0.7%. It is extremely lower than other companies. About cash recovery rate, it is much lower than unpaid ratio. Our contract says that tenants must pay the rent 1 week before the rent coverage is up. Also, we quickly take actions to press tenants to pay the rent on their due-date. In addition, the contracts are explained very well by the house managers stationed at the Share Houses before the tenants move in. Therefore, we can keep both unpaid and cash recovery rate low.
How long do tenants stay at the house on average?

About 3 months to 6 months. Japanese tenants usually stay longer than foreigners do.
Why did people choose J&F House?

The reasons for Japanese and foreigners are not so different.
【Japanese】
・Make foreign friends
・Learn/practice languages before studying abroad
・Keep English skills after coming back to Japan from overseas
・Temporary place to stay
【Foreigners】
・Communicating with Japanese and seek to learn new things about Japan
・Learn Japanese
・Easy to move in and out with no screening and document hassle. Also, possible to move-out by giving 1~2 weeks notice
・Temporary place to stay before finding standard apartments
About management of standard apartment
01

Apartment leasing for foreigners
There are many foreigners living in Japan at present and Japan is the 4th highest in the world regarding the numbers of foreigners. Also, we estimate the number of foreigners will be increasing. On the other hand, Japanese citizens are decreasing and the Japanese real estate market will be getting smaller. Therefore, it is time for property owners to consider accepting foreigners seriously and the fact is that many owners understand the situation and accept foreigners. However, from the owner's standpoint it is pretty natural that they are concerned about accepting foreigners. By the way, J&F Plaza(including Ichii International Department)has assisted foreign residents for about 40 years. Our staff, are all bilingual and have experience abroad. Therefore, they get used to foreigners quickly and are well-motivated to assist them. If you are interested in leasing apartments to foreigners, please feel free to contact us.

Main services

1.Collecting rent
2. Refund when you moving-out
3. Dealing with prospective customers
4. Other tasks related to property management
5. Building maintenance
02

Work(contract)
Standard apartment management
Regarding apartment management, there are lots of tasks and small jobs involved. Especially for foreigners, they have language barriers and it can be so hard for them to understand contracts and that can cause some trouble because of a lack of understanding. So, we take care of these tasks and issues regarding foreign customers for the owner's.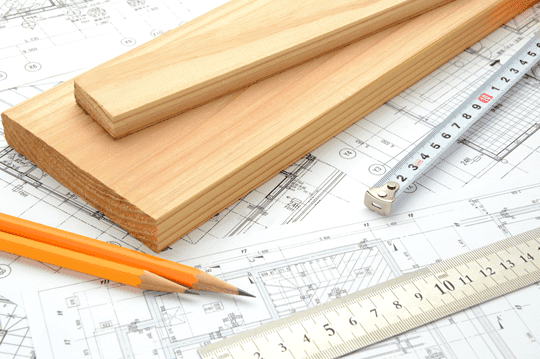 03

About renovating and repairing
Renovation suggestions to raise the occupancy rate
To raise occupancy rate for aged apartments, it is necessary to do different types of renovation. Our construction team are experts in the field and propose the best suggestions. If you have questions, please feel free to contact us.